5007 Summerville Road Phenix City, AL 36867


1910 E. Samford Avenue
Auburn, AL 36830

3D Low Radiation Dose Breast Tomography is used in conjunction with your mammogram to provide your physician with the ability to see breast tissue in three-dimensions. Bridgeway is the only imaging center in the region that can provide this technology without needing to increase the amount of X-rays or radiation which is used in standard 2D mammography imaging. Bridgeway was the first in the country to purchase GE's industry leading equipment SenoClaire*, making us the only imaging center in the area to be able to provide you with advanced 3-D breast tomography at the lowest dose of radiation possible. SenoClaire helps clinicians see breast tissue in 3D, without needing to increase the dose of X-rays the patient receives.
SenoClaire is indicated for the acquisition of 2D images (traditional mammography) and also for the acquisition of multiple projection views intended to produce 3D DBT images suitable for screening and diagnosis of breast cancer. SenoClaire can be used for the same clinical applications as traditional mammography for screening mammography.
SenoClaire works by using a low-dose, short X-ray sweep around a breast in a nine exposure "step-and-shoot" method. It involves stopping at each position where an image is taken, and unlike the continuous sweep, it helps ensure that no movement alters the image or produces blurring. The average acquisition takes less than ten seconds and is made possible because of the technology's light-weight and a sophisticated, steady rotating tube-arm.
The exam provides digital images of the breast, which are viewed on a specialized monitor. At Bridgeway Diagnostics our new GE equipment allows us to provide precision imaging at the lowest radiation dose possible.
*Trademark of General Electric Company

Every 3 minutes a woman in the United States is diagnosed with breast cancer. Early detection is key. Ensuring cancers are detectable early enough and with confidence, while protecting the population from unnecessary exposure, is the objective of mammographic imaging — which is why the ability to deliver 3D images without raising dose is so critical.
3D breast screening technology helps clinicians uncover small cancers which can be a limiting factor in standard 2D mammography. Bridgeway acquired this technology knowing that it would produce higher image quality without increasing dose. This technology can have a significant impact on helping clinicians to identify breast cancer while ensuring that all patients are not subjected to higher amounts of radiation.


You will be taken to a separate secluded waiting area for Women's Imaging. For a screening mammogram/tomogram, you will change into a gown that opens in the front, and a specially trained and certified technologist will take care of you during your exam. The technologist will position you and place your breast on a platform, and will gradually apply pressure until the breast is fully compressed. The whole process takes just a few minutes.


Do not wear deodorant, powder or lotion the day of your exam. We recommend you wear a two-piece outfit since you will be asked to remove your clothing from the waist up.


Q. I have seen other centers state that they offer Low Dose Breast Tomography. How does Bridgeway's Low Dose Tomography differ from others?
A. Bridgeway was the first in the country and currently is the only dedicated outpatient imaging center in the region to provide the new GE low radiation dose 3D breast tomography. No other facility in this area can provide 3D tomography with lower radiation dose.
Q: Why does Dose matter?
A: When you take a picture with a smartphone camera, the light that comes in is natural and free, and you can take as many shots as desired. In X-ray imaging, the "light" used to gain the image is the X-ray itself, which is ionizing radiation.
"Standard digital mammogram exposes patients to low dose levels, which is why it's acceptable for screening healthy women for breast cancer," says Henri Souchay, Engineering Manager, Detection and Guidance Solutions, GE Healthcare. "The effective dose for a 2D digital mammogram is about 15 times less than an average CT scan. GE's SenoClaire maintains the same level of dose in 3D as standard 2D mammography." It doesn't subject women to additional radiation in order to obtain the 3D images, unlike other 3D tomography. At Bridgeway, we are able to provide higher image quality without increasing radiation dose.
"To better understand how SenoClaire is a low dose solution let's compare it to naturally occurring radiation and other forms of x-ray based technology. For example, a chest x-ray is equivalent to three days of natural radiation; a mammogram is equal to one month of natural radiation, and a CT scan equals two years or more," Souchay explains.
http://newsroom.gehealthcare.com


Q. Why would I receive an ultrasound after a tomogram/mammogram?
A. Women with dense breast tissue will often undergo additional screening with our 3-D Automated Breast Ultrasound which has been shown to find up to 37% or more cancers than mammography alone. Diagnostic ultrasound may also be indicated for further clarification of a finding on mammogram or for women feeling a new lump.
Q. How do I know if my breasts are dense?
A: Breast density is determined by the radiologist who reads your mammogram and classifies the density into one of four categories. Your doctor will tell you if you have dense breasts based on your tomogram/mammogram's classification on the density scale.

If the exam is stat the results will be called to your physician immediately after the exam. Routine exams will be reported to your physician within 24 hours. You will receive a letter with the results of your 3D low dose breast tomogram/mammogram usually in about five days. A copy will also be provided to the physician you indicate. Your letter will also indicate your breast density. Please see below and refer to the 3D Automated Breast Ultrasound section for more details on breast density.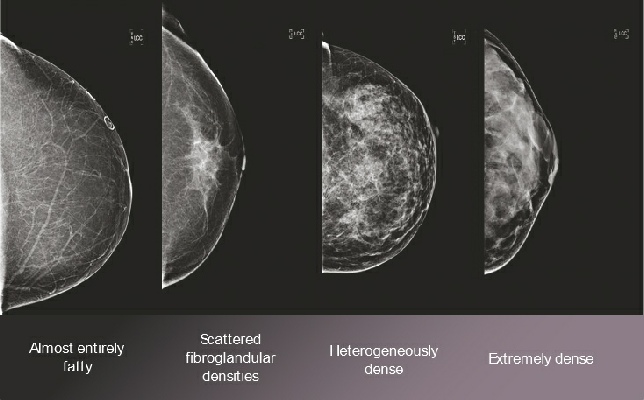 ABOUT
APPOINTMENTS
CAREERS